Table Sea Salt

Table sea salt that is available in the traditional packaging with the picture of Trabaccolo, an ancient cargo sailboat used for the transport of sea salt, contains only sea salt extracted from the crystal clear Mediterranean Sea off the west coast of Sicily between Trapani and Marsala. This area is protected as a nature reserve, with a long tradition of salt making – in this area salt was extracted already by Phoenicians in the 3rd century BC.
To these precious white crystals extracted from the sea, only iodine, a vital element for the normal functioning of the human organism, has been added. Unlike most other table salts available on the market, Droga Sea Salt contains no anti-caking additives (salt E-free). Therefore, please store it in a dry place as instructed on the packaging. Sea salt is hygroscopic and will, if stored in an open container, absorb moisture from the air, and begin to solidify. This process is faster with fine salt, while coarse salt, with its lower surface to volume ratio, is less susceptible to this phenomenon. But do not worry, even if your salt begins to solidify, this does not affect its quality whatsoever. As a matter of fact, the resulting lumps can be easily broken between your fingers.
Sea salt is a natural product obtained under the open sky in the salt pans. Despite the extraordinary precautions during its cultivation, harvesting and storage, one can occasionally find some tiny, dark bits of natural origin in it. Most often these are remainders of the bottom of the crystallization ponds. These "black dots" can be easily removed from the salt by hand.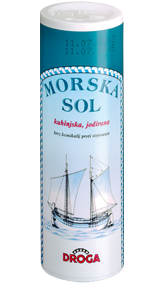 Sea salt, fine, iodized in a shaker
Quantity: 250 g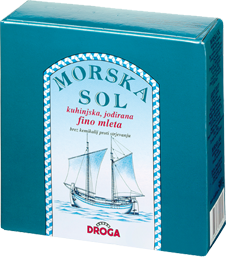 Sea salt, fine, iodized in a cardboard packaging
Quantity: 500 g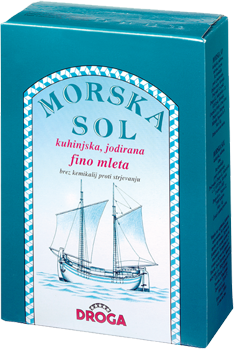 Sea salt, fine, iodized in a cardboard packaging
Quantity: 1 kg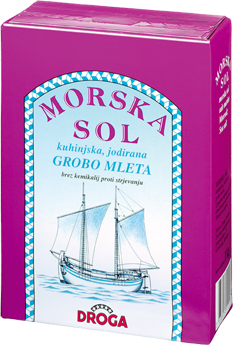 Sea salt, coarse, iodized in a cardboard packaging
Quantity: 1 kg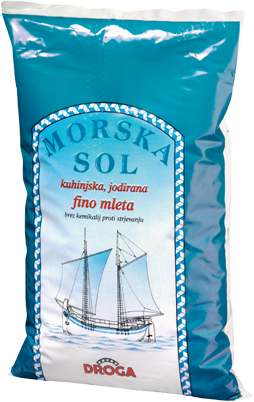 Sea salt, fine, iodized in a PE bag
Quantity: 1 kg